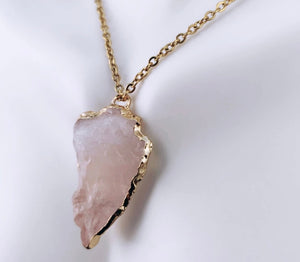 Rose Quartz is known as the "Love Stone." It promotes self-love, confidence, and compassion. It is used to attract love while removing stress and insecurities. It also helps to overcome heartbreak and betrayal so that you can let love back in. It brings faith and healing to all who are within its vicinity.
When worn close to the heart, it enables the heart center to open, releasing any tensions or blockages.
Affirmation: I open my heart to give and receive love. 

Chain Length: 20 inches